In 2016, the Career Technical Education (CTE) Foundation Sonoma County, in partnership with several local organizations and women leaders, set out to form a leadership group to address the formidable gender gap for girls and women in pursuit of Science Technology Engineering and Math (STEM) education and careers.
As a result, Community WISE (Women Investing in STEM Equity) was formed under the guidance of female leadership from Sonoma State University, Sonoma County Office of Education, Keysight Technologies, Straus Family Creamery, Sonic, and students in Engineering/Technology pathway programs in local high schools. 
Join our Mailing List for up-to-date information!
Support opportunities for girls and women in pursuit of STEM education and careers!

Local STEM Programs and Resources
Links to More Information
Our Investments
Community WISE works to identify and invest in engaging opportunities that enrich learning experiences and inform career exploration to encourage more girls to pursue STEM majors and careers. Community WISE is currently investing in the following programs: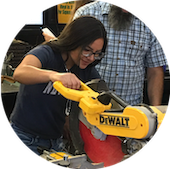 Women in Engineering Class, Rancho Cotate High School, Rohnert Park
New to Rancho Cotate High School this year, the Women in Engineering course aims to educate students on the contributions of female engineers and to train the next generation of strong young women to take their place. Students in this predominately female class learn a variety of design principles and building techniques, including CAD, in the state-of-the-art Maker Space on the RCHS Campus and gain confidence in their abilities to master STEM concepts.The course is so popular that a second section has been implemented to accommodate demand from sixty four students.
Girls Tinker Academy
The Girls Tinker Academy, launched in 2018, is a free two-week program designed to engage and inspire middle school girls in Maker activities that encourage the exploration and development of technical, mathematical, and design abilities. The Academy is a partnership between Community WISE and the School of Science and Technology at Sonoma State University. Over sixty applications were received for twenty-four spots available in the 2018 program.
More information about the Girls Tinker Academy.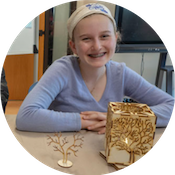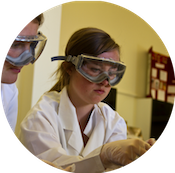 STEMgal Web Platform
CWISE is developing an online platform designed to deliver an engaging, fun, personalized system to explore local STEM pathway opportunities for women and girls while providing inspiration and encouragement along the way. This platform, working title "STEMgal," will offer a "choose-your-adventure"  user experience tailored to the needs of women and girls in various stages of STEM pursuit, from "STEM-committed" and "STEM-curious" to those who have been discouraged and are seeking new motivation and support through challenges. Services will include access to mentorship, STEM events, internships, education and career development opportunities locally available to the user. The platform will additionally offer employers an opportunity to promote careers to those seeking STEM work experience and/or mentorship. Importantly, the platform is designed and built by young women interested in pursuing careers in computer programming and app development.
OUR VISION
Community WISE is a North Bay resource for girls and women to access and be empowered as leaders in STEM.
OUR MISSION
Community WISE invests in STEM initiatives for girls and women to enrich their learning and career opportunities.
PURPOSE
Community WISE (Women Investing in STEM Equity) seeks to build resources and lead change so that every woman and girl in Sonoma County achieves her full potential. We are committed to women's economic self-sufficiency and we believe improving educational and career opportunities for girls and women in STEM fields will empower more women to secure economic independence through greater lifetime earnings and increased entrepreneurial opportunities.
WHY STEM?
Nationally, and in California, the demand for a skilled STEM workforce is growing and STEM jobs offer higher salaries than non-STEM jobs. Women working in STEM jobs earn, on average, 33% more than those in other fields, yet women account for only 24% of the STEM workforce. Women's under-representation in STEM fields begins early, with gender gaps in STEM interests beginning in middle school and growing throughout high school, college, and career. Far too many girls and women are discouraged from pursuing success in STEM fields. Now is the time for change.
COMMUNITY WISE COALITION
Community WISE is a coalition of local employers, education institutions, students and community leaders who work to identify and invest in engaging learning opportunities to inspire and prepare more girls to pursue STEM majors and careers.
Community WISE believes that our STEM workforce issues can only be solved by diverse partners collaborating to create disruptive solutions that promote equity for all girls and underrepresented racial minorities.
For more information, or to become an investor, please contact Kathy Goodacre, kgoodacre@ctesonomacounty.org.
JOIN US!
We are seeking coalition partners to provide foundational support for Community WISE. Help us become the North Bay resource for girls and women in STEM. Participants at the Revolutionary and Innovator levels fuel the movement by investing critically needed resources and partnering with the Coalition.
Revolutionary Investment Level – $10,000
Revolutionary level partners provide foundational support for Community WISE. This includes funding for CTE Foundation to lead and support Steering Committee and event planning, develop investment strategies, research investment opportunities, and engage in outreach to potential Changemakers. Additionally, Revolutionary partners will be named as sponsors of our Fall Kick-off Event, providing additional recognition and event benefits.
Innovator – $5,000
Innovator level partners are encouraged to sponsor five girls or women to be a Community WISE Changemaker, which allows them to participate in all member events and investment opportunities. Corporate partners are encouraged to sponsor female employees.
Changemaker – $1,000
Changemakers shape how Community WISE will invest in strategies and opportunities that empower girls and women in STEM. Changemakers will meet regularly to review investment recommendations and make decisions on the organizations and initiatives that are chosen to receive financial support.
For more information, or to become an investor, please contact Kathy Goodacre, kgoodacre@ctesonomacounty.org.