[et_pb_section bb_built="1″][et_pb_row][et_pb_column type="4_4″][et_pb_text _builder_version="3.0.64″ background_layout="light" text_orientation="left" border_style="solid"]
Northern California Community Benefit Programs Awards $95,000 to Fund Health Careers Academy and Summer Health Careers Institute
CTE Foundation is happy to announce its renewed partnership with Kaiser Permanente Northern California Community Benefit Program. The grant supports work to expand and enhance two signature programs that enable high school students to explore a wide variety of careers in healthcare while learning technical and soft skills required by the industry. Implemented by Santa Rosa Junior College, students learn through a series of lectures, labs, and job shadows at local institutions. Importantly, participants earn both high school and college credit. Read the stories of two students who participated in last year's Summer Health Careers Institute, and check out links to both programs below. Registration is now open for Fall 2017 Health Careers Academy!
[/et_pb_text][/et_pb_column][/et_pb_row][et_pb_row][et_pb_column type="4_4″][et_pb_text admin_label="Daisy" _builder_version="3.0.64″ background_layout="light" text_orientation="left" border_style="solid"]
Daisy always knew that she would go to college one day, but she really didn't start thinking about what it would take to get there until encouraged by her teachers at Casa Grande High School. "College felt far away," she says, "In Mexico, education is really different, and I didn't have a sense of the process." Daisy's Clinical Biology teacher knew that she was interested in becoming a nurse and told her that the SRJC's Summer Health Careers Institute would be a good experience, and it would help her prepare for ongoing education.
Daisy talks enthusiastically about the application process, saying that not only was it her first real interview expe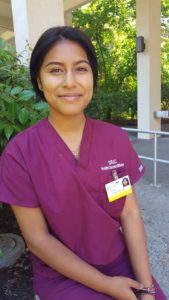 rience, but it also helped her learn how to present herself in a professional way. "You can't be trying to help people and not be passionate about helping others," she says, and learning how to express that passion verbally was an important experience for her.
During the program, Daisy gained a much clearer picture of her potential career pathways and the required education to get there. The immersive, hands-on learning opportunities have only fueled Daisy's passion for helping others. When asked about the class sessions that inspire her most, she first tells a story about being able to watch nurses in action at St. Joseph's hospital, and then how helping them with their patients made her feel a strong sense of purpose. She then goes on to describe other classes, such as shadowing a public health official in the field, and observing hospital doctors in cardio and in pediatrics, and how those experiences have inspired her to think beyond her original goals. "Every week I change my mind about where I want to go. It helps me out because I now know I have a lot of other choices too, not just nursing. I know because of this program that there are a lot of things in healthcare that I can do."
[/et_pb_text][et_pb_divider _builder_version="3.0.64″ show_divider="on" divider_style="solid" divider_position="top" hide_on_mobile="on" color="#8c8c8c" /][et_pb_text admin_label="Bryan" _builder_version="3.0.64″ background_layout="light" text_orientation="left" border_style="solid"]
Throughout his youth, Bryan has committed to helping others. Growing up he would sometimes end up in a hospital, and it was there that he saw first-hand how caring doctors and nurses could be. It was an experience that impacted him greatly, "I want to be in a position to help others, to comfort them, to make sure things at home are good," he says.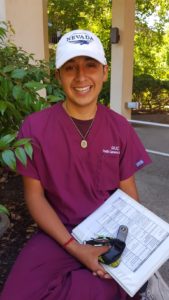 Outside of school, Bryan works 4-5 days a week at a local pizza restaurant, teaches Tae Kwon Do to little kids, and volunteers at both the food bank and at Petaluma Hospital. While getting his homework done is a challenge with these extra-curricular activities, he is grateful to have the opportunity to participate in the Summer Health Careers Institute. "This program is making me stay focused on my goals for the future. It's worth giving up my summer to do this," he states with a smile.
When asked about what he appreciates about the program most he begins by  saying, "I cannot stop talking about this things I have learned these last weeks, it's incredible!" He starts by sharing how he has already used the techniques learned in the Crucial Conversations training at both his work and with his Tae Kwon Do kids. He then talks about his experiences shadowing people at the hospital, learning about how to chart, and observing the process of diagnosing patients.
But most importantly for him was learning that there are options in healthcare beyond simply going to medical school. The program has shown him other pathways that could lead to a career as a doctor while allowing him to work and gain experience along the way. At the moment, he feels the best approach is to start as a nurse, then work his way to physician's assistant, perhaps becoming a trauma doctor, and then decide if committing to extra schooling is right for him. "A step-by-step program makes me feel more comfortable," he says, "And this course has helped me create a laddered approach to learning and building my career."
[/et_pb_text][/et_pb_column][/et_pb_row][et_pb_row][et_pb_column type="1_2″][et_pb_cta admin_label="SHCI" _builder_version="3.0.64″ title="Summer Health Careers Institute – 5 Week Summer Program" button_text="Learn More" button_url="https://healthcareers.santarosa.edu/summer-health-careers-institute-shci" url_new_window="on" background_color="#4ec477″ use_background_color="on" background_layout="dark" border_style="solid" custom_button="off" button_letter_spacing="0″ button_icon_placement="right" button_letter_spacing_hover="0″ /][/et_pb_column][et_pb_column type="1_2″][et_pb_cta admin_label="HCA" _builder_version="3.0.64″ title=" Health Careers Academy – Academic School Year Program" button_text="Registration for 2017-18 Open Now" button_url="https://healthcareers.santarosa.edu/health-careers-academy-hca" url_new_window="on" use_background_color="on" background_layout="dark" border_style="solid" custom_button="off" button_letter_spacing="0″ button_icon_placement="right" button_letter_spacing_hover="0″ /][/et_pb_column][/et_pb_row][/et_pb_section]