Not even a pandemic can stop you from finding the career paths that are right for you.
Sonoma County CareerFest was a four-day virtual event to help Sonoma County students explore local careers. Students were able to participate in any number of live virtual career panels and career-readiness workshops to help connect with local employers, discover career opportunities, and build real-world skills.
Sonoma County CareerFest is a collaborative effort between CTE Foundation, SCOE, and almost a dozen high school Work-Based Learning Coordinators and College & Career Counselors from across Sonoma County!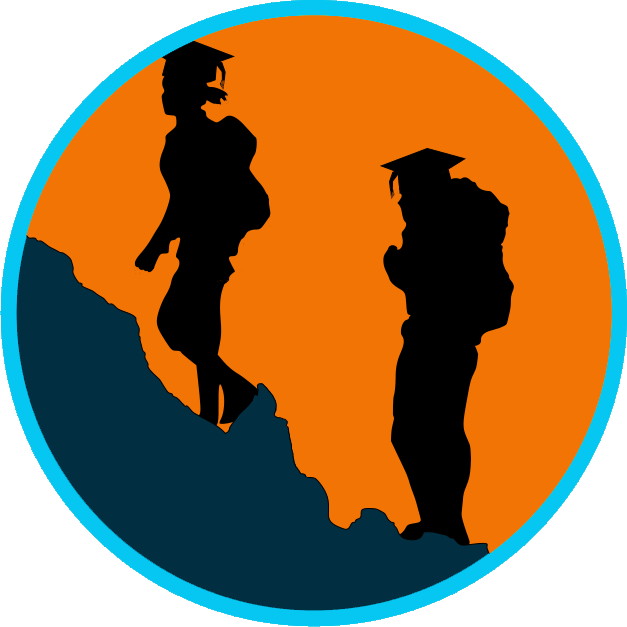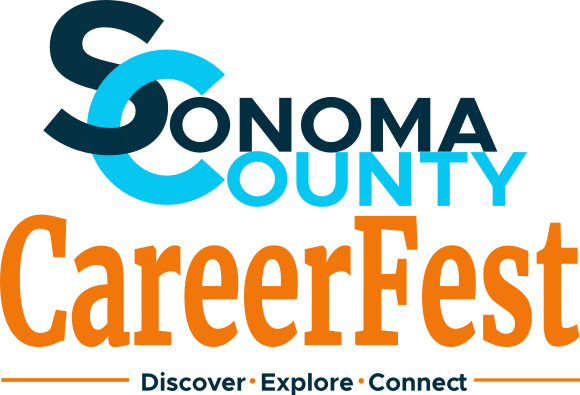 *Sonoma County CareerFest branding and logo designs were created by media students at Rancho Cotate High School.
Want help with finding a career path that fits your interests? Have questions about graduation requirements? Need help understanding post-secondary options? Find your school's College and Career Counselor or Work-Based Learning Coordinator below. They are there to help you!
Analy High School
Jordan Brown
College and Career Center Coordinator 
jsbrown@wscuhsd.org
Archbishop Hanna High School
Carpe Diem High School
Valarie Alston
College Career Center Outreach Specialist
valston@petk12.org
(707) 778-4690
Casa Grande High School
Valarie Alston
College Career Center Outreach Specialist
valston@petk12.org
(707) 778-4690
Cloverdale High School
Kathryn Ulrich
Academic Counselor
ulrichk@cusd.org
707-894-1924
Credo High School
El Molino High School
Leah Woody
College and Career Counselor
lwoody@wscuhsd.org
Cell: 707-484-3221
Elsie Allen High School
Geyserville New Tech Academy
Jesus Diaz
College and Career Counselor
jdiaz@gusd.com
Cell: (707) 360-2529
Office: (707) 857-3592
Healdsburg High School
Laguna High School
Leah Woody
College and Career Counselor
lwoody@wscuhsd.org
Cell: 707-484-3221
Career Panels & Career-Readiness Workshops
Sponsored by the Traditional Medicinals Foundation.
"Get ahead of the curve on future career opportunities."
Nearly every industry is going through a transformation. Make sure you are prepared for the careers of the future.
FEATURING:
Katie Greaves, Director of the Sonoma County Workforce Investment Board (WIB)  |   Hamish Gray, Senior Vice President of Keysight Technologies  |  Dan Voit, CEO of Blentech
2. LEARNING DOES NOT STOP AFTER HIGH SCHOOL
"Open doors through training and education."
"Help build a healthier community."
Hear from a variety of different healthcare professionals share their experience working in a pre and post covid world.
FEATURING:
Dr. Urmila Shende, Pediatrician at Kaiser Permanente & COVID Vaccine Chief for County of Sonoma  |  Jinny Tran, BSN, RN, Clinical Nurse II, Stanford Healthcare  |  Samuel Bernier, Licensed Marriage & Family Therapist
"Moving from a plan to a reality."
5. BUSINESS & ENTREPRENEURISM CAREERS
"Pave your own way in the world of business."
Learn what it takes to succeed in the business world or to even start your own business!
FEATURING:
Sheela Hodes, Real Estate Agent at Compass  |  Salvador Picazo Chavez, President/CEO at Puente-Internacional, Inc., and Owner of Picazo Restaurant & Cafe  |  Lindsey Stone, Financial Advisor at Edward Jones
"First Impressions & Job Readiness"
What skills do you need to stand out and get hired for the jobs of the 21st century?
FEATURING:
Tracy Jackson, President & CEO of HR E-Z, Inc.
Documents: Hustle to Bustle Handout
7. CONSTRUCTION & ARCHITECTURE CAREERS
"Building a stronger community."
Whether you like working with your hands, love to design and be creative, or want to focus on reducing climate change, the construction industry is full of opportunities that fit your interests.
FEATURING:
Gerardo Guzman, Architect at RossDrulisCusenbery Architecture  |  Lauren Williams, Construction Management student at San Francisco State University and former participant in the North Bay Construction Corps  |  Doug Hamilton, Owner of Oak Grove Construction
"Resources for an effective job search."
Learn the basics of conducting a job search, including applying effectively, work permits, and Q&A.
FEATURING:
Daniel Chaparro, Bilingual Case Manager, Social Advocates for Youth
Documents: SAY Job Search Documents
9. AGRICULTURE & NATURAL RESOURCES CAREERS
"Become a steward of the earth."
Spend your career improving the health and beauty of the place we call home.
FEATURING:
Kim Batchelder, Natural Resources Planner at Sonoma County Agricultural Preservation & Open Space District  |  Kevin Sea, Program Coordinator and Instructor at SRJC Wine Studies Program  |  Kia Canning, Hardware Product Engineer at Monarch Tractor
10. GAINING A COMPETITIVE ADVANTAGE
"Learn the power of a strong network and being organized."
Brainstorm how to stand out by industry through JamBoard.
FEATURING:
Jose Anaya, Chair of the Santa Rosa Metro Chamber's Young Professionals Network
11. TECHNOLOGY & ENGINEERING CAREERS
"Join the 4th Industrial Revolution."
Sonoma County is home to some of the world's most innovative technology companies. Explore careers in this rapidly changing industry.
FEATURING: 
Christine Nee, Corporate Acquisitions and Integrations at Medtronic  |  Bert Pires, Vice President of Engineering at Amy's Kitchen  |  Farid Farahmand, Chair of the Sonoma State University Department of Engineering Science
"Leveraging Your Positive Digital Footprint."
Explore your Digital Footprint while also talking about a way to leverage social media to make you more appealing to employers and potentially reach a larger audience.
FEATURING:
Brandon Verdu, Global Talent Acquisition Brand Specialist, Skechers
Documents: Core Values Exercise
13. CREATIVE ARTS CAREERS
"Turn your creativity into a living."
There are two types of creative people: Those that do what they love for a hobby and those that do what they love for a living. Which will you be?
FEATURING: 
Kirsten Kennedy, Executive Producer, 2K Games  |  Wayne Ingram, Co-Owner of Link Creative  |  Jim Murphy, Animator, Writer & Director at Pixar Animation Studios  |  Cesar Cruz, Director of Video Production at Desire to Inspire Studios
14. YOUR FUTURE STARTS NOW
"Social justice and resume building."
Learn how you can get started in high school on "resume-building" through social justice and community projects. Discover how to create or join a community project that relates to your passions.
FEATURING:
Rima Makaryan, Executive Director/Founder of the SoCo Monarch Project
Documents: Your Future Starts Now Activity
15. PUBLIC SAFETY & FIRST RESPONDER CAREERS
"Become a hero of your community."
What does it take to dedicate your life to keeping the community and its people safe? Let's ask our panel of heroes!
FEATURING:
Orlando Rodriguez, Chief of Police at Sonoma Police Department  |  Jon Greenslade, Firefighter at Sonoma Valley Fire & Rescue  |  Deputy Chris Haas, Tactical Flight Officer, Henry 1, Sonoma County Sherrif's Office
16. KNOW YOURSELF > KNOW YOUR CAREER
"Look Inward, Outward, and Forward."
Using an enneagram personality test, discover your strengths and growth areas. Understand how you can use this knowledge to choose a career that fits you.
FEATURING:
Angela Davis, CalWORKs Program Developer at Santa Rosa Junior College
Continue Your Career Search
Dozens of virtual tours, interviews, panel discussions, and demonstrations to help you better understand the career opportunities in Sonoma County
Quick & easy assignment ideas to help students take notes and reflect on their session(s)?
These assignments are fillable GoogleDocs! Copy the file and modify it to suit your needs, or share the link and have students make a file copy so they can fill it out electronically and submit it in the format you prefer.
Deepen student engagement by integrating with a Work-based Learning (WBL) activity?
See our WBL Challenges for ideas!
And find out more about WBL and discover resources that can help on the CCR Force website: https://www.ccrforce.org/workbased-learning
Sonoma County CareerFest is a collaboration of local high school college & career counselors and work-based learning coordinators, the Sonoma County Office of Education (SCOE), and the Career Technical Education (CTE) Foundation.