In a longstanding partnership with Sonoma Clean Power and Switch Electric Vehicles, CTE Foundation facilitates implementation of the Switch Electric Vehicle (EV) Lab in schools. 
The Switch EV Lab is designed to teach the fundamentals of electric vehicle design, manufacturing and maintenance while also exposing students to concepts in electricity, alternative fuels, automotive technology and clean energy generation. Students work together to assemble a road-ready electric vehicle kit paired with curriculum that utilizes advanced math, science and team-building exercises that build awareness of careers in green technology and provide opportunities for students to learn from failure – a critical skill recognized as a keystone of innovation that is not often taught in academic settings.
To date, 10 Switch EV Labs have been distributed to North Bay schools, including one middle school, serving to enhance curriculum in science, engineering, make and automotive programs.
2022-2023 Switch EV Lab Program Participants:
Hanna High School – Computer Science
Rancho Cotate High School – Make/Engineering
Anderson Valley High School – CTE
Piner High School – Make/Engineering
Healdsburg Junior High School – Make/Engineering
Windsor High School – Principles of Engineering / Robotics
Petaluma High School – Automotive & Metal Shop
Maria Carrillo High School – Automotive
Sonoma Valley High School – Engineering
Career-Connected Learning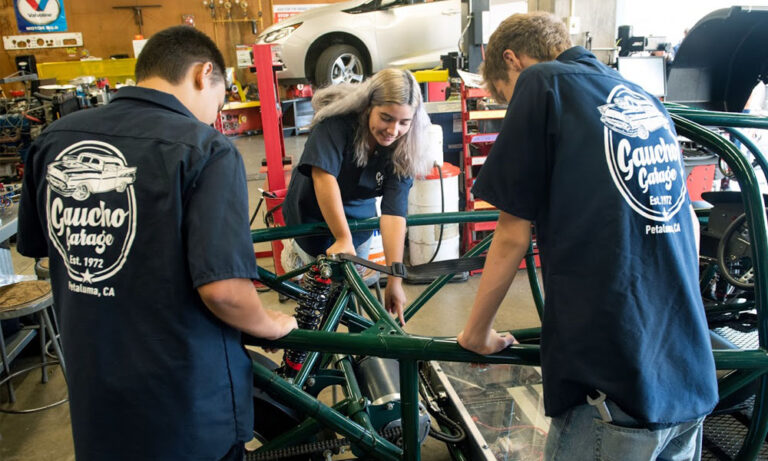 Career-connected learning (aka work-based learning) is at the heart of the Switch EV Lab Program. The Switch vehicle is designed to provide a hands-on experience that teaches students engineering, electronics, automotive and the importance of sustainable energy.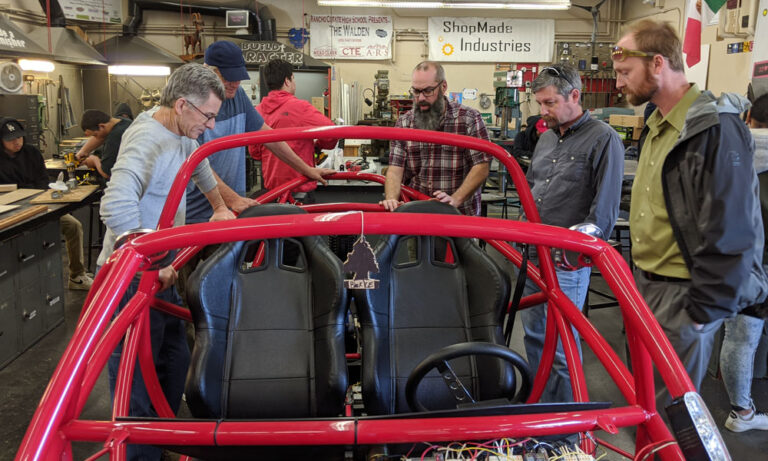 Teachers in the Switch EV Lab program are provided several paid opportunities for professional development, including an intensive week-long training at Switch Vehicles Inc., regular Community of Practice gatherings, one-on-one coaching from a SCOE Work-Based Learning Coach, and pre-designed project templates to implement hands-on student projects to enhance their classes.
The Switch EV Rally is an annual event culminating a year of student creativity and hard work on the Switch EV. The event is designed to inspire an innovative mindset in students and teachers, and provide an opportunity for students to showcase their vehicles. Students will demonstrate what they have learned throughout the year through presentations and challenges, explore the work of other Switch students and engage in fun, hands-on activities.
"This program showed me the vast number of possible jobs. There are so many possibilities. I think I might take up a job in this field."
"My favorite part of this class was the construction of an electric vehicle that we presented at the 2022 Switch EV Rally in Santa Rosa, CA."
"My favorite part of the class was putting the Switch vehicle together because it was the best feeling ever to fix it after building it and turning it on."
"This course helped me learn more about wiring and how wiring works on a motorized vehicle. It impacted my career plans by me being more interested in wiring."
"The Industrial Design class has taught me skills in design and empathy which are crucial in a vast variety of career fields that I am interested in. From this class I have grown an appreciation for Industrial Design and will likely pursue future classes like it in college next year. I am extremely thankful that I decided to take this class and feel that it has been of great benefit and has prepared me for future careers in the same path."
"The course helped me explore different careers such as engineering, design, and automotive mechanics. The course was interesting, fun, and informative."
"I am eternally grateful to you and your organization in ways that I am only marginally able to describe. As every whole that is greater than the sum of its parts, your part may be greater than most which is attested to by the delight of my students."
"After a few years of seeing students be pretty darn sedentary, one of the highlights of the year was to see the kids fully engage in the events at the Switch EV Rally. The students were battling for a spot on the team that got to go, and once there they were running from event to event. They took great pride in being able to present to a panel of judges and they hung their awards on the shop wall as soon as we got back. It was a great day!"
"Students enjoyed learning how to work with tools and each other while they assembled the Switch EV. At times, students would assemble components incorrectly, but it taught them to persevere and try different ideas until they found the correct way that components worked together. Students loved this project and enjoyed learning about electricity, sustainability, suspension, steering, and the brake system."
"My students are now motivated and confident that they can work on electric vehicles. Yesterday they pushed a broken golf cart into our shop, and they are determined to have it fixed by the end of the year!"
"Your Switch EV program has been a sustaining light as your constant support in every aspect has served to sustain my faith in our success. If every high school teacher had the level of support you have provided me, there would not be the severe attrition our profession faces year to year."