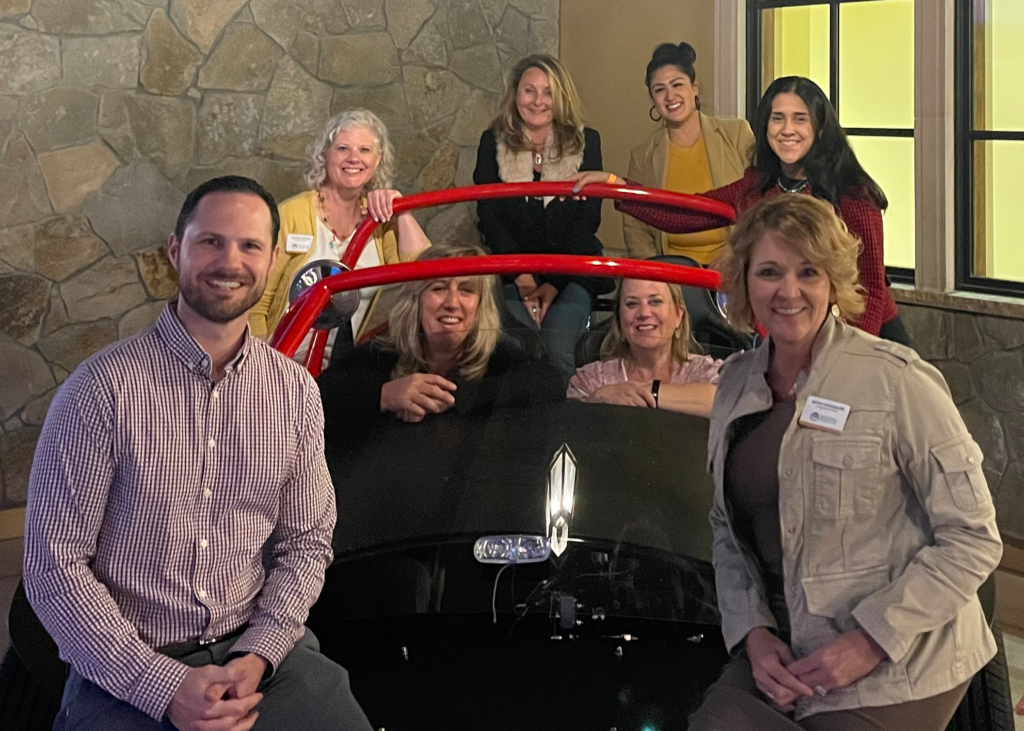 The CTE Foundation team at the 2022 Spark the Future fundraiser
Community Engagement Specialist
Do you believe that linking young people to local career pathways is important? Are you passionate about education, economic development, or both? Are you someone who loves connecting people with resources, or with one another?
Career Technical Education (CTE) Foundation is seeking a Community Engagement Specialist who is an outgoing networker and connection-builder; someone who is interested in improving student experience and keeping young people excited about living and working in Sonoma County. The Community Engagement Specialist (CES) supports community and employer outreach and engagement activities to support CTE Foundation's programmatic, communications and fundraising goals. The ideal candidate believes that career technical education and career-connected learning are valuable educational strategies, and is excited to introduce our mission to a broad range of Sonoma County businesses.
We have a commitment to diversity at CTE Foundation — in backgrounds and in experiences. Education is a universal concern, and we need people from all backgrounds to help innovate our education system and ensure equitable access to quality, career-connected learning experiences. We are deliberate about the kind of team and culture that we are building, seeking team members that are strong in their own aptitudes and also share CTE Foundation values of equity, empowerment, engagement, experience and entrepreneurship.
Reporting to the Director of Student Experience, the CES plays a key role in helping CTE Foundation maintain and develop partnerships with local employers and organizations to meet our mission to innovate the education-to-career experience to strengthen economic development and student success. The CES creates linkages with interested industry partners to engage with students through CTE Foundation's programs and investments, as well as connects business leaders to opportunities to invest in the Foundation's work through donation or corporate sponsorship. The CES will collaborate closely with stakeholder partners to ensure that Sonoma County's high school students benefit from relevant, career-connected learning opportunities that keep them engaged in their learning and improve future success.
Primary Duties:
School-Industry Engagement (65% time)
• Cultivate new partnerships with local businesses and organizations to introduce them to the work of CTE Foundation and the importance of bringing work-based learning opportunities into local classrooms.
• Build strategic partnerships with local government, business, union and trade organizations – such as the Sonoma County Economic Development (EDB) Board, Los Cien and local chambers of commerce – to help bridge connections between schools and the business community.
• Match student/teacher educational needs with industry partners through activities such as career panels, company tours, guest speakers and hands-on demonstrations. Collaborate with Sonoma County Office of Education and other education partners to facilitate meetings, programs and professional development for educators.
• Maintain and expand a database of local businesses/organizations that can provide work-based learning opportunities for students.
• Obtain qualitative and quantitative feedback from industry partners, education partners and students to help CTE Foundation measure impact and to continuously improve upon work-based learning strategies.
• Foster relationships with the Hispanic/Latinx community to inform about career technical education youth programs and opportunities.
• Support advancement of youth internship and apprenticeship efforts.
• Assist the coordination and expansion of the Sonoma Corps program, including: program planning and execution; outreach and recruitment of students and industry partners; and identifying, soliciting and stewarding funding partners.
• Support and lead events and initiatives designed to enhance work-based learning and career exploration for students.
Marketing & Communications (15% time)
Support the marketing and communication efforts of CTE Foundation:
• Identify and compile positive/impactful student/teacher stories and experiences to support communication/marketing efforts.
• Strategically engage in community and networking events to foster community and industry partnerships. Connect business partners with sponsorship opportunities for CTE Foundation events.
• Contribute to newsletter and social media communications through content development, writing articles and/or seeking industry partners to submit relevant content.
• Develop and distribute marketing materials soliciting industry and community participation in work-based learning opportunities.
• Provide event coordination support for stewardship, fundraising and programmatic events throughout the year including ticket website management, live auction coordination and marketing/advertising efforts.0
Resource Development (15% time)
Support fundraising activities of CTE Foundation:
• Track and document activities with industry and organization partners related to industry engagement and partnerships.
• Participate in CTE Foundation's fundraising strategy, particularly relating to corporate sponsorships and donations, by identifying, cultivating and stewarding business partners.
• Contribute to message development for fundraising campaigns especially as they relate to industry-focused campaigns.
• Attend relevant community events and cultivate speaking opportunities in order to deepen local networks, engage new donors and expand community presence.
Other Administrative Support as Assigned (5% time)
QUALIFICATIONS:
• Demonstrated experience in networking and building connections; bonus if experience is directly related to engaging the business community, education community and/or Hispanic/Latinx community
• Organized and efficient in planning meetings and events, both internal and external.
• Good written and verbal communication skills; a persuasive and passionate communicator with excellent interpersonal skills.
• Technologically savvy and great at systems development/improvement.
• Enjoys wearing multiple hats and able to be nimble in daily work activities to meet the needs of a fast-paced team.
• Bilingual Spanish highly desired.
• Proficient in the following: Microsoft Office Suite (Word, Excel, Outlook, Teams); Internet Search; Social Media; CRM/Database Management.
• COVID-19 vaccination required for employees with reasonable accommodations for medical or religious considerations.
Salary & Benefits:
• Full-time non-exempt; Salary range $60,000 – $70,000 per year based on experience.
• Employer-sponsored medical, dental and vision benefits.
• 401k with employer match.
• Flexible work schedule after 90 days with limited pre-approved work-from-home options (main office in Santa Rosa, Calif.).
• Generous paid time off benefits to include 11 recognized holidays, 5 days sick time, 10 days accrued vacation with step up for years of service and 2 personal floating holidays per year (Vacation accrual rates commensurate with years of service).
• CTE Foundation is committed to a workplace culture that supports individual and team development to include employee and workplace wellbeing opportunities.
To apply:
Desired start date: August 1, 2o22. Please submit letter of interest and resume to careers@ctesonomacounty.org.