By Jocelyn Camacho
Last fall, I heard a radio commercial promoting Girls Tinker Academy for middle school kids. What an awesome program, I thought to myself. As a recent high school graduate, I wasn't eligible to attend. But I was determined to find a way to get involved.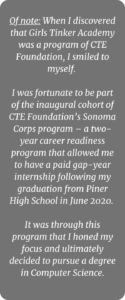 I reached out to the organizers at CTE Foundation, whom I already knew from an internship program I benefitted from my senior year. Admittedly, what I really wanted to do was get my hands dirty and tinker in cool maker spaces with middle schoolers. Ultimately, I was brought in as part of a volunteer group to review applications and make recommendations for the winter program. As someone who attended several different science, technology, engineering and math (STEM) programs and events as a younger student, this felt like a great way to give back and help students like me.
Plus, this experience opened another door for me and just a couple months later, I was hired as the Bilingual Program Intern at CTE Foundation. My responsibility over the past several months has been to conduct outreach and manage the application process for this summer's Tinker Academy program.
In March and April – as over 100 applications flooded in for the summer program – I had so much fun getting to know these students on paper and through their video and audio submissions. Then, I hit the jackpot: I found out that the Tinker instructor teaching one of the programs was Ms. Donner, my Maker teacher from middle school! (Ms. Donner's class was always my favorite class and really helped develop my interest in STEM.) In coordination with CTE Foundation, Ms. Donner asked if I could be a mentor "on loan" to support Tinker this year. Finally! I'd get my hands into the fun, so I heartily said "Yes!"
Even more impactful than the fun I had tinkering this summer, was the opportunity to meet these young minds in person. It honestly changed my life; these students taught me so much! They were smart, driven and resourceful – the whole package!
I saw myself in these students and reflected on my own experience when I was younger. I initially had little confidence in math and science but programs like Tinker Academy really helped me gain so much more confidence.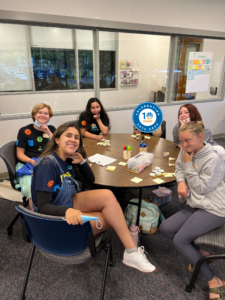 Each day, I saw them learn new things, make new friends and grow confidence in STEM through Tinker Academy. I loved how this experience led me to reflect on my own opportunities while giving these Tinker students the opportunity to see someone who was like them and pursuing her early professional STEM career.
Plus, I had so much fun tinkering and making – this experience inspired me to continue learning about what career opportunities I might have in fields that allow me to solve problems in a hands-on fashion. And my peer mentors all felt the same as me – they only wished they had the same opportunity when they were young (I even heard parents pining over the program!).
Every single one of the students I worked with expressed how they wished there was a "Tinker 1, 2, 3, 4." They said things like, "When learning is this fun I don't even feel like I'm learning!"
One student who had a particular impact on me started off super shy. They had solid math skills but told me they were scared about going int0 8th grade. They didn't talk much in the beginning but as the program continued, they started opening up.
I saw this student gain confidence and I saw them gain some new best friends (and a bigger smile!). By the end of the program, they let me know that while before they were scared about pursuing a career in engineering, now they can seem themselves moving in this direction.
This is why programs like this are so important.
The opportunity to mentor during Tinker Academy was really a full circle moment for me. Some of my first positive experiences in STEM were during Ms. Donner's Maker class eight years ago when I was a middle schooler, and today I'm side-by-side with her leading middle school students through activities – it's a dream come true.
While Tinker Academy is over, my work as an intern continues with CTE Foundation and Community WISE (Women Investing in STEM Equity). I'm currently supporting an effort to shape future investments in STEM programs in Sonoma County through a community asset mapping project (see the sidebar!).
It's fun to think that one happenstance radio commercial has led me to have this deep, impactful internship experience. I thought it would be about me helping other young STEM-passionate kids. Instead, my experiences with the students at Tinker Academy and this internship are really helping me grow so much more. It shows that if you give a little, you can really gain a lot. What a cycle!